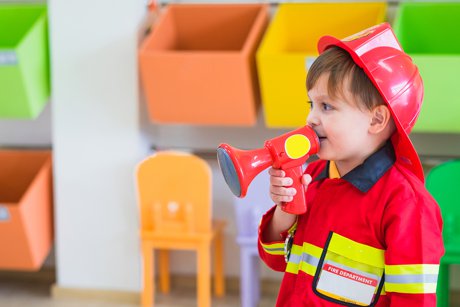 Reality intermixes with imagination on Irvine property. At the Pretend City Children's Museum little ones learn through play without even realizing it. A series of thoughtfully created exhibits form a miniature town just for them. While each space contains elements of fun math, reading and science skills are interwoven.
Exhibits focus on "building better brains" through interactive merriment. Sirens are blazing and kids jump into action as firefighters and police officers in Emergency Services. Nearby little dentists, doctors and nurses stress the importance of staying healthy and taking care of oneself. Mail carriers come forth with Irvine home owner's mail regardless of the weather. Performing and visual art fill the Irvine property too. Little actors and actresses strut their stuff in the Amphitheater while fingers are busily creating masterpieces in the Art Studio.
Play Is Serious Business by Irvine Homes
Youngsters dig in and learn the lay of the land. Water flows freely in the Marina and gardens grows green on the Farm. Nearby the wonder of the ocean is explored at the Beach. It's back to basics when at Home. Kiddos make believe in the grown up world by fueling up in the Gas Station, stopping off at the Bank and picking up supplies in the Grocery Store.
Special events gear up children for real life experiences. The School Readiness Fair takes place in the springtime and offers free health and wellness screenings to Southern California youth. Experts are on hand to give assessments and advice to parents. Food, music, games, crafts and prizes are highlights of this amazing event. Also on the calendar is the annual When I Grow Up Day. Kids interact with dancers, artists, first responders, zoo keepers, teachers, bakers, construction workers and more. Emergency and other vehicles are parked and ready to be explored at the museum too.
Play the day away at the Pretend City Children's Museum. Simple memories are the most cherished and there's nothing kids love more than spending time with mom and dad.