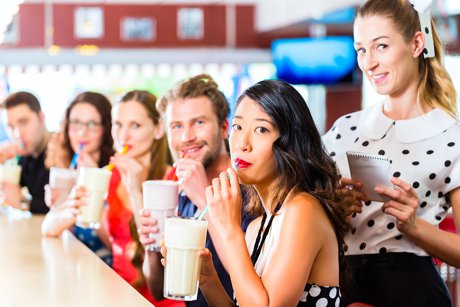 It's a race to the dinner table near San Diego homes. Meals are in full gear at the Corvette Diner. Here even backseat drivers agree that the food is the best and the ambiance even better. Located in Liberty Station at 2965 Historic Decatur Road, hungry drivers pull off the road.
Movers and Shakers Living in San Diego Burn Rubber
A 50's motiff greets patrons as they enter the door. Tunes are blasting from the jukebox and greetings are heartfelt and friendly. Waitresses dress for success in period garb with poodle skirts setting the scene.
The menu is as eclectic as the decor. Open for lunch and dinner tasty options seem limitless. Appetizers start it all off right. Slap Me Some Skins potatoes are perfect for sharing. Hoochie Coochie Calamari Fries are also great for passing around. Burgers are juicy and overflowing with flavor. Sandwiches are super too such as the Ike and Tina Tuna Melt which has become rather popular. Peggy Sue's Pastrami has also gathered quite a following from locals living in San Diego. Platters hold plenty to satisfy dinner sized appetites. Italian dishes in the spotlight are Annette Funicello Shrimp Fettuccine, Chicken Parmesan and Chicken Polka Pasta. Kids get crazy off the children's menu with items listed just for them. Favorite selections include Hot Diggity Dogs, Ginormous Chicken Fingers and Sophie's Spaghetti and Meatballs. Shakes and malts are to die for and nicely complete meals.
There's no denying that the food at the Corvette Diner is palate pleasing. But, folks from San Diego homes saunter in to get in the game too. Thrills and chills are found in the Gamers Garage Arcade where classic games give guests a blast back to the past. Hoots and hollers are heard around pinball machines and air hockey tables. Dine and play packages are available Mondays through Thursdays and combine good eats with action packed gaming.
Swing by the Corvette Diner for some grub and get your groove on. Good times are happening in this joint, Daddy-o. For more information on what's happening call 619.542.1476.